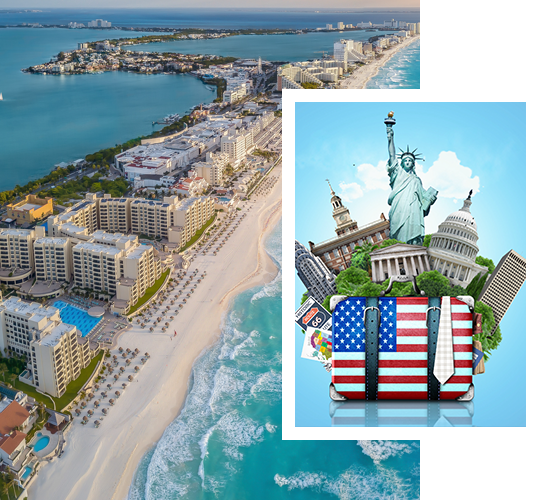 At Foram Worldwide, a renowned name in international travel, we offer bespoke holiday packages to the customers around the world. Spearheaded by the exceptionally talented and inspiring power couple - Viral Shah and Foram Shah (winner of the 'Young Entrepreneur' Award 2018), Foram Worldwide has carried forward the legacy of Heena Tours & Travels and built a strong loyal customer base since its inception. The next generation of"Shahs" are consistently adding and upgrading holiday packages and restructuring the hospitality industry with their astute business acumen.
As the most preferred and leading travels and tour company in India, we strive to bring you the most exotic and exclusive destinations of the world including holiday packages to the Arctic Circle and Iceland, thereby raising and setting benchmarks in the travel industry. We aim to make every destination, every stay and every bite that you take…a memorable and everlasting experience. Our personalised and courteous treatment to our customers reflects not just our warmth but also our company's core values. Which is why we are appreciated not just for our services but our tasty vegetarian food…giving enough reason to our customers to keep coming back for more!
"Motabhai, your destination...your memories...your way!"
Our Amazing Services
We travel not to escape life but for life not to escape us." We have been selling beautiful experiences for years through our state-of-the-art designed holiday packages along with homely and freshly meals on tours for our pure vegetarian travellers. We inspire our customers to live a rich life, full of unforgettable travel experiences.
Group Tours
We offer group tours that have itineraries planned and supervised by experts, along with homely food prepared by Rajasthani Maharaj and fit into your budget while taking you to some of the most exotic destinations in the world.
Tailor-made Holidays
An independent travel plan designed and arranged just for you which includes private airport/hotel transfers, hotels, internal airfare, trains, cruises, performances, events, activities and privately guided tours at any place and in any style that you want to travel.
Air Tickets
Save time and money when booking air tickets with us with perfect guidance and best options provided with offline bookings.
Visa
We believe knowledge is power hence we keep track of all the visa requirements and fees through professional visa experts to deliver positive results.
Travel Insurance
Going abroad? Protect your trip with Travel Insurance. Customize travel insurance quote basis your destination country
We are different from Others and Pioneers of new Innovations in making your itinerary with extra care and extra inclusions. Especially famous between Gujarati's and Marwari's all across World with a goodwill graph of 90% repeated guest, we invite you for your next dream vacation.
Fareast - Started in 2006 with Rajasthani Maharaj

Europe - Started in 2008 with Rajahani Maharaj and Kitcsthen Caravan

Australia - Started in 2010 with Rajasthani Maharaj Tours

New Zealand - Started in 2010 with Self Drive Tour Manager Tours with less than 10 Passengers and with Rajasthani Maharaj

USA - Started with by adding the famous Lake Tahoe Destination in 2016 and Mammoth Lakes in 2018

Dubai - Pioneers to start in entire industry with our Rajasthani Maharaj 2019

Travelled to Arctic Circle with 150 Pax in 2019 (Pioneer to discover new destination)

And now 2019 starting Iceland with Kitchen Caravan - one of its kind
30+ GROUP TOUR OPTIONS TO CHOOSE FROM
3483+ TRAVELERS ENJOYING TOURS NOW
17100+ HAPPY CUSTOMERS OF EUROPE TOURS
14400+TOURS ORGANISED EVERY YEAR
Get Our Special Deals
Thoughtful thoughts to your inbox